Blue Lacuna is among the largest text-based interactive stories ever produced, a full-length novel and adventure game in one. As a wayfarer, you will find new worlds to explore, complex characters to befriend or anger, choices to make that affect the fate of worlds, and a story whose ultimate meaning and resolution is defined by you.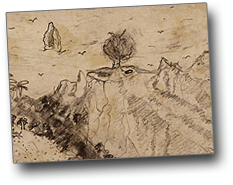 You may have played interactive fiction or text adventures before... but you've never played one like this.
Blue Lacuna features:
Dynamic room descriptions

that change based on the time of day, weather, tides, and what you've learned. Explore the island of Lacuna plus four other worlds.

Complex characters

who can converse, remember, form opinions, and follow their own agenda. You'll develop a unique relationship with the game's characters that affects which of them are most important to your own personal story.

A novice-friendly keyword navigation system

that simplifies input by using the same syntax for moving, examining, and conversing. Other ease of use features include a built-in tutorial, smarter command parsing, more helpful error messages, and typo correction.

Ditch the compass

and navigate via relative directions, landmarks, following other characters and approaching distant items.

A drama manager

that tries to detect when you're getting stuck or bored and introduces new story elements to provide hints.

Choose between story mode or puzzle mode

to experience Blue Lacuna the way you like best.
Download Blue Lacuna for Mac, Windows, or Linux now and begin your adventure.
Blue Lacuna is by Aaron A. Reed and is released under the Creative Commons Attribution-Noncommercial-Share Alike 3.0 license.
Appearances & Awards
2010 IndieCade Finalist.
The author performed a reading of Blue Lacuna in prose and source code at the 2010 Electronic Literature Organization conference at Brown University.
Lacuna was featured in the 2010 Othergate, along with an extensive interview with the author.
Lacuna was featured in the May/June 2010 GEE Love For Games German gaming magazine, and mentioned in the Issue 199 of the Australian gaming magazine Hyper.
blueful, the prelude to Blue Lacuna, was featured in the (dis)junctions Media Festival, where it won the Innovation 2010 award.
Blue Lacuna was featured in the Netart and Present segments of the Prospectives.09 digital art conference in Reno, Nevada.
Blue Lacuna was nominated for six 2009 XYZZY Awards, winning four: Best Story, Best Setting, Best Use of Medium, and Best Game.
Acknowledgements
First and foremost, I owe a huge debt to those whose shoulders I've stood on, most directly those of the Inform 7 team: Graham Nelson, Emily Short, Andrew Hunter, and David Kinder. In addition to creating the wonderful, free tools that were used to create Blue Lacuna, they also answered an endless series of pesky questions and were generous with advice, bug fixes, and esprit de corps.
In addition, the entire community on the newsgroup rec.arts.int-fiction deserves commendation for their amazing responsiveness, friendliness, and willingness to answer questions no matter how unusual or dubious. Among many others are Andrew Plotkin, JDC, Khelwood, Mike Tarbert, and Ron Newcomb, but a special thanks to everyone on raif who helped me out with problems over the development of this project.
Many of my close friends took time with me to discuss various aspects of the story's design over the past several years. They know who they are and their insight was tremendously helpful in shaping the final product.
My beta testers were instrumental in finding bugs and tweaking the puzzles, spending countless hours hunched over their interpreters with keen eyes. A million thank-yous to Alexei Othenin-Girard, Basti, Depresiv, Doug Egan, Emily Boegheim, George Oliver, HenryMikel, James Jolley, Jeremy Rishe, Justin Lowmaster, katzy, Lynnutte, Mario Carneiro, Neale, Scott Maddix, Sharon Rishe, Stephanie Camus, and Victor Gijsbers. Any remaining bugs in the story are of course entirely my fault and not theirs.
Finally, Blue Lacuna owes a stylistic debt to the Miller brothers and the creative team at Cyan Worlds, whose Myst and Uru games have been a huge inspiration in my desire to create thought-provoking interactive stories. The ending is never written.